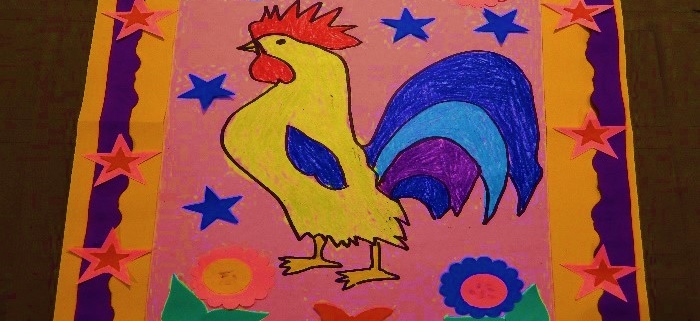 This class is for children, ages 5-8 years old.
Join art teacher, Darlene Siracusano, in learning about how folk art was made by untrained artist throughout history!
Children will start the morning listening to a farm animal story and meeting Hallockville chickens! They will then create their own folk art rooster using colored collage paper, fancy scissors, punches, and crayons!
Members: $15  |  Non-Members: $20
Instructor Biography: Darlene Siracusano is a retired art teacher from Eastern Suffolk BOCES who has taught art to a diverse population of students for 32 years. She holds a Masters in Education and has three New York State permanent teaching certifications; Nursery, Kindergarten, and Grades 1-6. Along with certifications in art educations K-12 and Special Education. Darlene enjoys a creative collaborative approach to incorporate the arts into other subject areas such as; geography, culture, history, science, and literature. Darlene is also a North Forker and is looking forward to sharing her experience of making learning fun with art throughout the North Fork Community.