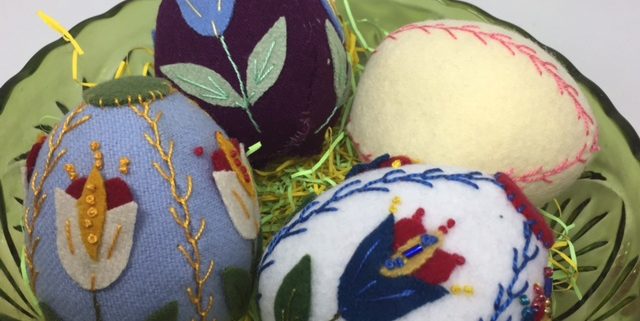 Make a Hand-Made Wool Appliqué Egg!
This class is geared for any skill level, including beginners. You will learn the blanket, stem stitch and french knot embroidery stitches, as well as the basics of appliqué layering and working with wool. No sewing machine needed! Light refreshments will be served, registration is required.

Wool in several colors, stuffing, thread and needles will be provided, bring a good sharp pair of large and small scissors.
[gravityform id="6″ title="true" description="true"]
If you wish to bring your own supplies and wool, you will need:
Two 5" square of background color wool (white, off white…)
5" squares of heart, bird, leaf or flower colored wool
Scraps of other colors
Small beads such as seed beads or glass beads if desired
Embroidery floss in matching colors with the above, variegated embroidery floss, decorative embroidery threads
Good sharp scissors for cutting small curves, good fabric scissors, paper scissors
Hand embroidery needles, tapestry needles, bring what you have
Freezer paper (we will have a roll on hand)
Small or short pins or appliqué pins
Pin cushion
Thimble
Stuffing