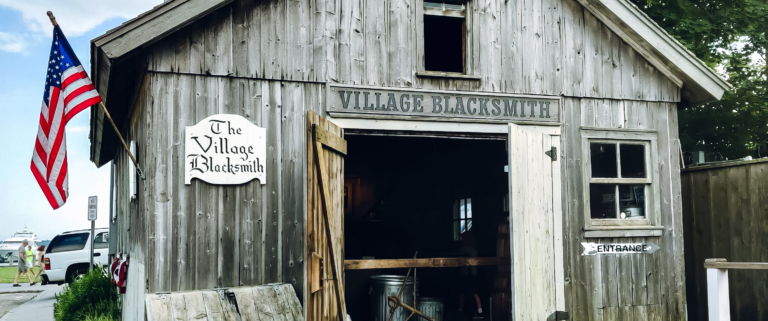 The Hallockville Museum Farm re-connects the community with its agricultural heritage. The 28-acre farm preserves nineteen historic houses, barns, and outbuildings ranging from the mid-18th century Hallock Homestead to the Depression-era Cichanowicz farmhouse. Participants tour the museum's buildings, gardens, and collections; experience real farming in the museum's fields, and meet Hallockville's animals. Hallockville serves as an educational resource for all age groups to raise awareness of Long Island's agricultural heritage.
Session 2 – Saturday, April 9, 2022: Traditional Crafts
Observe demonstrations by local artisans followed by a variety of hands-on activities. Participants will meet in Greenport at the Blacksmith shop to watch the note-worthy smithy engaging in his craft. Upon return to Hallockville Museum Farm there will be more artisans (quilters, weavers, and carvers) awaiting the group.
All sessions run from 9 am — 12 pm and are $50 per session for members; $65 for non-members. The classes are designed for Educators, Lifelong Learners & You!
Participating instructors include: Richard Wines (PhD), writer, historian, retired professor; Marie Fitzgerald (PhD) retired history professor; Susan Babkes retired HS history teacher and professor; Paul Hoffman museum curator; Tom Barry retired special education teacher and blacksmith; Connie Klos retired IT expert and award-winning quilter and needlework teacher; MaryAnne Huntington retired Suffolk Community College Academic Computing, Docent; Lois Leonard retired speech/language pathologist