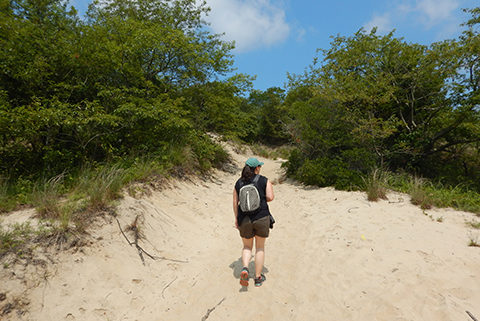 Leaders: Gilbert Hanson and Glenn Richard
This presentation and three-mile walk will examine the geology of the uplands and beach at Hallock State Park Preserve. We will focus on how the geologic development of the North Shore of Long Island and Long Island Sound, along with present-day coastal processes and groundwater flow, relate to the geology and biological environment of the Park. The geologic history of this area included continental glaciation that created the hilly moraines and flatter outwash plains of Long Island, subsequent retreat of the ice front, development of a freshwater lake in Long Island Sound, sea level rise, and eventual filling of Long Island Sound by salt water. On the uplands, we will take a look at the soil, consider its origin and relationship to the vegetation, and visit an overlook at Hallock's Pond, which is perched well above the main water table due to underlying clay. We will also observe the effects of human activity, such as sand and gravel mining. On the beach, we will consider the geologic origin of the various types of rocks, the role of waves and wind in shaping the beach, and how exposed layers of sand, gravel, and clay and the effects of human activity have interacted with groundwater and meteorological phenomena to create the hoodoo style of erosional topography inland and along the coastal bluffs.
Gil Hanson is a professor of geology at Stony Brook University. His research interests are on the geology and hydrology of Long Island. He teaches undergraduate and graduate courses on glacial geology, earth's surficial environment and geology of New York. In each of these courses he uses Long Island and northeastern USA to explain geological concepts.
Glenn Richard was formerly an adjunct faculty member and educational outreach coordinator at Stony Brook University. He has a background in natural sciences such as geology, and in computer sciences. His teaching at Stony Brook included Long Island geology and coastal processes, other aspects of the natural environment, and computer programming.
ONLINE TICKET SALES HAVE ENDED
Registration is required. Heavy Rain will cancel. $5 members | $7 non-members